Description
Many of you are familiar with a Birds of a Feather (BoF) session... An unconference is much like that except, an unconference is built the day-of by the people who are there!
Instead of formal sessions, we'll do Drupally things in a one-day. If you're unfamiliar with the unconference format, read about organizing and attending.
When the unconference part of the day happens we will follow the "rules" of an unconference:
Whoever shows up are the right people
Whatever the results of a session were what was supposed to be
Whenever it starts is the right time
It is over when it's over
Participants should use the "law of two feet" to leave any session if you aren't contributing something positive, getting something out of a session, or feel another session would be more to your liking.
Speakers
Bob Snodgrass
Cat Herder @
net2Community, Inc.
Doing Drupal since 4.7, Organizer Fox Valley Drupal User Group (Chicago Area)

Andrew Olson
Lead Front-End Developer @
Principal Financial Group
Andrew enjoys front-end development and the challenge of making the web accessible for everyone on any device. He has designed and developed dozens of sites for companies specializing in sporting goods, health and wellness, restaurant food service, and more. He is also a talented team leader, photographer, musician, and speaker. Andy is on the Drupal team at his current company, Principal Financial Group. At his previous company, Andy helped create an internal accessibility task force that performs accessibility audits for clients and advocates for accessibility initiatives. He is an organizer for A11yTalks, a monthly meet-up featuring conversations around digital accessibility. Andy remains active in open-source as the co-maintainer of the Live Captioning Initiative, an open-source project that helps hearing-impaired individuals participate at events online or in-person. He is an organizer of the Fox Valley Drupal Meet Up and Midwest Drupal Camp (MidCamp). In addition, Andy is Acquia Certified for Front End Development for Drupal 7 and Drupal 8 and is an approved Acquia Site Studio 6 Site Builder. Andy has a BS in Electrical and Computer Engineering from the University of Iowa. A fun fact about Andy is that he sang in a band at Lollapalooza in Chicago.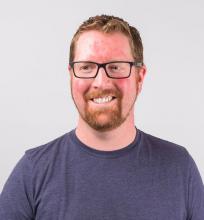 Avi Schwab
MidCamp 2021-23 Lead & Technical Product Consultant @
ImageX