Have you been tasked with implementing Google Analytics or Google Tag Manager in order to collect data related to your Drupal site? Perhaps in the past, you've seen this process consist of enabling the Google Tag Manager module (or alternatively the Google Analytics Module) and calling it a day. Have you been left with the sneaking suspicion that you could be doing more and collecting richer data as a result? Or maybe you've been looking for more insight into how the data that you are collecting is actually used for analysis. If so, this training is for you. Throughout the day we'll cover:

Google Analytics
Whether you are new to web analytics in general, new to using Google Analytics, or need a refresher on the basic Google Analytics reports and tools, this training will provide a helpful foundation. After some basic setup, we'll start with learning basic metrics, and then build an understanding of how we can report on site performance by looking at our website traffic, content, users, and conversions. Throughout the day, we'll also show you how to use different reporting tools in the interface!

Google Tag Manager
Learn more about tag management systems in general, Google Tag Manager implementation strategy, and the benefits of Google Tag Manager. Google Tag Manager doesn't replace Google Analytics but helps make the process of tagging your website and tracking actions on your site easier. We'll cover the core concepts of Tags, Triggers, and Variables, learn about the data layer, and also look at some of the built-in tags available in Google Tag Manager.

Drupal Implementation Specifics
Finally, we'll tie these concepts back to Drupal. We'll cover a number of common Drupal challenges and missteps, look at configuration options using the powerful Drupal dataLayer module, and aim to better understand when tagging requests may or may not require developer intervention.
Trainers
Jon Meck
VP of Marketing @
Bounteous
Jon Meck is VP of Marketing at Bounteous, where he helps leading companies create big-picture digital solutions by optimizing the flow of data, insights, and interactions across the digital brand experience. His superhero job is traveling the country teaching others about Google Products and speaking at industry conferences like Inbound and SMX. He has a background working for companies large and small in analytics, conversion optimization, social media, and website design. Jon is also the author of two number puzzle books.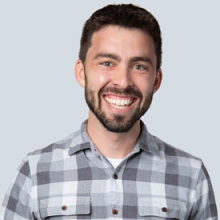 Brian Perry
Lead Front End Developer @
Bounteous
Brian is a versatile developer with experience building complex, interactive web applications in support of large-scale localized sites. Recently he has focused his efforts on evolving Drupal front-end development practices, decoupled Drupal, and style guide development techniques and has spoken on the topic at various Drupal events. Brian is a Drupal 7 and Drupal 8 Acquia Certified Grand Master and loves all things Nintendo.