In this session we will have an overview of supplementary Webform 8.x modules, namely we will peak into:
Webform Views - a module to expose your submissions into views;
Webform Score - a module to convert your webforms into exam-like quizzes.
To warm up, you will receive a walk-through of the features each modules has to offer. Whenever possible it will be spiced up by exemplar use cases where those modules were applied by their humble creator (Alexander) to solve real-world tasks.
As continuation we might get hands dirty with code/architecture: examining how internally these modules are organized, what are the possible spots for extending them. Though do not worry, the technical part will be quick and painless, I promise.
All in all, after attending this session, as a site-builder, you should have a crisp picture of what Webform Views and Webform Score can do for you. If you were paying attention during the 'quick-n-painless' technical part, you should also get certain idea of what to do in the code should the module fall slightly short of your needs, i.e. how to extend it on 'developer' level.
Speakers
Alexander Trotsenko
Drupal developer @
FATV
Alex is a passionate Drupal developer. He likes Drupal, Linux, open source and to be challenged. During his 8 years Drupal career he had a chance to act as lead developer in multiple enterprise projects.
Alexander's anti-burnout instincts failed to stop him from contributing :( So now he maintains a number of modules on Drupal.org, most noticeably co-maintaining Webform 8 beast.
When Alex is not busy with Drupal, he's most likely to be busy updating his Gentoo laptop or (consequently) contributing to Gentoo Linux. In the rare occasion of being away from PC, Alex would travel or grab a book from his 'gotta-read' list.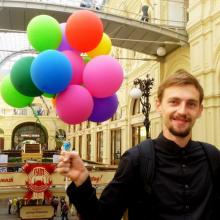 Track
Back-End
End users / Content Admin
Site Building