Building a website is very much like cooking. When you cook something, you think about what you'd like to have, buy the ingredients needed and get in the kitchen. In the digital world, it all starts with having a vision for your product. You then combine various technologies, a good team and get to create something awesome. The process of cooking may involve following a recipe or just having your creativity lead the way. You can do the same with your product - follow the rules or try to break boundaries, until you get the taste that you'd like to share with the world! Join me in this session to discuss more about food and Drupal - the perfect combination for a great dinner recipe! We will talk about:
Basic concepts = The things that a client should know before you start the work

Decide on the recipe = Agree on what will be built

Make a list of ingredients = Define specs

Start cooking = Start building the product

Taste as you go and refine the recipe = Build, iterate, test and ask for early feedback

Share it with the world = Once the product is ready, you can share it with others!
Experience level: Beginner
Speakers
Adriana Mosnoi
Senior Project Manager @
FFW
Adriana has more than 7 years of experience in project management. She possesses a great knowledge of web technologies and helps companies develop complex digital solutions that ensure their success. With plenty of experience in public speaking, ranging from communication and coordination of volunteering groups and youth organisations, internal company presentations, to client and technical teams consulting and training, Adriana likes to share her knowledge and help others improve the work they do. Recent DrupalCamp sessions include presentations at Moldcamp, DrupalCamp Kyiv, DrupalCamp Transylvania.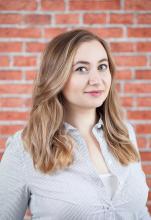 Track
End users / Content Admin
Project Management
Site Building