Prologis is a global brand focused on industrial logistics real estate. One of the most valuable tools for their customers is the Property Search Tool which can be used to can explore available spaces in the area of interest. Being a competitive digital player and leader in the industry, Prologis wanted to revamp their Search tool with an updated look and set of functionalities offered by leveraging their existent Drupal 8 website and building an API centered solution to serve the content needed to their customers. In this session we will talk about our experience on the project, based on building the map search tool by using Drupal, Elastic Search and React as the main technologies in the project.
The items we will talk about are:
Introduction into the project and Prologis' usage of Drupal

Project Scope

Implementation details and challenges we faced

How we made it work

Final Result
Speakers
Adriana Mosnoi
Senior Project Manager @
FFW
Adriana has more than 7 years of experience in project management. She possesses a great knowledge of web technologies and helps companies develop complex digital solutions that ensure their success. With plenty of experience in public speaking, ranging from communication and coordination of volunteering groups and youth organisations, internal company presentations, to client and technical teams consulting and training, Adriana likes to share her knowledge and help others improve the work they do. Recent DrupalCamp sessions include presentations at Moldcamp, DrupalCamp Kyiv, DrupalCamp Transylvania.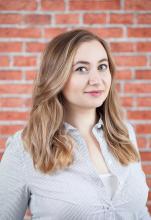 Track
Back-End
Business
Front-End
Site Building