Description
Note to the MidCamp team: I'm trying to add multiple speakers, but I am getting an ajax error when I click 'Add another item' and it doesn't let me add additional co-presenters. The speakers (adding UID also) will be: Laura Johnson (1584), Amanda Luker (1587), Callin Mullaney (1588) and Brian Goldstein (1593). There will be four of us from Four Kitchens there as facilitators of this workshop-style session as described below. Please let me know if you are able to link the users or if I should log back in and adjust this proposal. Thanks!
_______
Description
This will be a hands-on workshop where we'll walk through the steps of starting a new Drupal site based on the Sous project, customizing the starter theme, and adding a new paragraph component to the site. Along the way we'll give a tour of what's included with each system (Sous and Emulsify) and discuss the pros and cons of using these tools as a foundation for your Drupal build. Participants will leave with a shiny new site installed locally that they can continue to expand and experiment with.
Sous is a starter project for Drupal that is managed with Composer. It includes a set of contrib modules and starter configuration for media, content types, and components that are commonly used in site builds. Developers can hit the ground running with a basic setup that follows Four Kitchens' standards and best practices. It also includes a custom starter theme generated from Emulsify.
Emulsify is an open-source tool for creating design systems with reusable components and clear guidelines for teams. It uses Pattern Lab to prototype components. It integrates nicely with Drupal and allows you to decouple front-end and back-end development while maintaining consistent and accessible design patterns.
This is a great introduction for anyone who is interested in learning about:
Drupal starter projects

Component-driven themes
This session will be facilitated by technical strategists and engineers from Four Kitchens.
Synopsis
Participants will start a new Drupal site with Sous, customize base elements in the theme, and add and style a new paragraph component.
Prerequisites
Working knowledge of composer-managed Drupal sites

Working knowledge of CSS,  Twig, and YAML

To participate hands-on, a laptop with Git, Composer, Lando, and NPM installed
Speakers
Laura Johnson
Senior Software Engineer @
Four Kitchens
I began working with Drupal in 2008 and the rest is history. I am organizer of and contributor to Drupal North, which is Canada's largest Drupal conference, as well as DrupalTO, Toronto's Drupal meetup group. I have spoken at multiple conferences, including DrupalCon and accessibility conferences, and enjoy collaborating with my peers on presentations and writing articles to share my learnings. Throughout my career, I have been a professional development and skills mentor to new developers.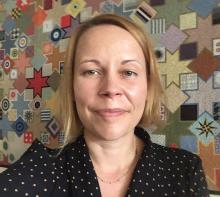 Track
Back-End
DevOps
Front-End