Live Captioning makes events more accessible for people with disabilities using voice to text. It helps reach an even wider audience once the event is over by providing transcripts for videos and SEO (Search Engine Optimization) value for event sites.
Voice to text technology continues to improve every year. We are now able to share our thoughts in real-time with an entire room of people using tools that capture speech into text. But did you know that live captions have benefits in addition to accessibility that allows you to reach an even wider audience?
The Live Captioning Initiative, first and foremost, helps hearing-impaired individuals follow along and participate at events in real-time. However, live captioning also benefits multicultural audiences whose first language is different from the language being spoken or comprehend written word better. It helps people understand speakers with different voices and accents in many group situations and helps make your event more accessible by enabling access for people with hidden disabilities.
The Live Captioning tool can further the reach to an even wider audience once the event is over. The tool has a feature that creates a transcript for each session at an event. This transcript can be uploaded for video captioning to YouTube or other video sharing services. When the transcript is added as text to the event page, it provides SEO value to websites.
Attendees will learn how to:
Use the Live Captioning Initiative tool.

Create a transcript for each session at events.

Provide a reliable, no-cost solution to make any event more accessible where there would otherwise be nothing.

Explore the differences between live captioning and real-time captioning (also known as open captioning or real-time stenography).

Help contribute to the Live Captioning Initiative.
Live Captioning Tool: https://lc.midcamp.org/
Live Captioning Project: https://github.com/MidCamp/live-captioning
Live Captioning on Open Collective: https://opencollective.com/live-captioning-initiative
Speakers
Andrew Olson
Lead Front-End Developer @
Bounteous
Andrew has deep industry experience developing, deploying, and supporting media-rich, content-driven websites and web applications. His focus is front-end development and the challenge of making the web accessible for everyone on any device. He has a background building interfaces, web applications, and mobile sites that are created with the user experience in mind. Andy has designed and developed dozens of sites for companies specializing in sporting goods, health and wellness, restaurant food service, financial and market trading, Internet radio, and more. He is also a talented front end developer, graphic designer, team leader, photographer, musician, and speaker.
Andy is Acquia Certified for Front End Development for Drupal 7 and Drupal 8 and is an approved Acquia Site Studio 6 Site Builder. Andy is the co-maintainer of the Live Captioning Initiative, an open-source project that helps hearing-impaired individuals participate at events online or in-person. He is also the co-maintainer of the Drupal Recipes project and the TB Mega Menu project. Andy has a BS in Electrical and Computer Engineering from the University of Iowa.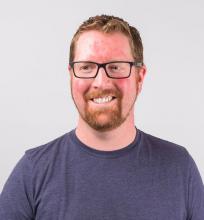 Qymana Botts
Web Developer @
Nerdery
Armed with an arsenal of programming languages, about 6 or 7 musical instruments, and a comically robust knowledge of video game lore, Qymana Botts is a quirky, enthusiastic dev on a quest to contribute a verse to this powerful play. Formerly a globetrotting music teacher, she made the transition to tech in 2017. Now, she works as a Software Engineer at Nerdery in Chicago. She is also an IAAP Certified Professional in Accessibility Core Competencies (CPACC).