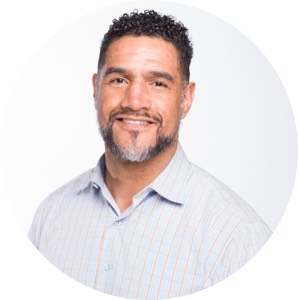 We are so excited to have Chris as our keynote speaker this year.  He is the President and Founder of Digital Bridge Solutions, a Drupal and Magento Agency here in Chicago that has been a supporter of MidCamp since its inception. 
His presentation at our 2017 event, Whitewashed - Drupal's Diversity Problem And How To Solve It, was a deep, and eye-opening look at diversity in Drupal, and the greater tech world, and how we can go about making it better.
Since then, he has been partnered with Palantir.net on an ambitious inclusion initiative working with students to introduce them to Drupal.  Last year, they brought a group of students from Baltimore to DrupalCon Baltimore.  They have held Drupal training sessions here in Chicago, and are currently working to bring students from Genesys Works and NPower to DrupalCon Nashville.
Chris' presentation will be a collective group journey into sensitive and vulnerable territories, but promises interactivity, a safe space for the exchange of ideas, and perhaps even a little humor.  We hope you join us for it.
Session Submissions close Friday!
MidCamp is looking for folks just like you to speak to our Drupal audience! Experienced speakers are always welcome, but our camp is also a great place to start for first-time speakers.
MidCamp is soliciting sessions geared toward beginner through advanced Drupal users. Know someone who might be a new voice, but has something to say? Please suggest they submit a session.
Find out more at:
Buy a Ticket
Tickets and Individual Sponsorships are available on the site for MidCamp 2018.
Schedule of Events
Thursday, March 8th, 2018 - Training and Sprints
Friday, March 9th, 2018 - Sessions and Social
Saturday, March 10th, 2018 - Sessions and Social
Sunday, March 11th, 2018 - Sprints
Sponsor MidCamp 2018!
Are you or your company interested in becoming a sponsor for the 2018 event? Sponsoring MidCamp is a great way to promote your company, organization, or product and to show your support for Drupal and the Midwest Drupal community. It also is a great opportunity to connect with potential customers and recruit talent.
Find out more at:
Volunteer for MidCamp 2018
Want to be part of the MidCamp action? We're always looking for volunteers to help out during the event.  We need registration table help, room monitors, help with setting up the venue, and help clearing out.  Sign up at http://bit.ly/midcamp-volunteer-signup and we'll be in touch shortly!
We hope you'll join us at MidCamp 2018!