Location
Room 325 (Hybrid Remote)
Organizer Note
This is a Hybrid session where the speaker will present remotely. The session will be displayed on a projector in the assigned room on-site. Participants may either join remotely via the linked Zoom or attend in-person.
Description
You're working with some data and find yourself needing to find a specific piece of information, but your searches keep matching things that you don't want. While basic searches are fine for some things, every once in a while you need something more powerful. 
Enter regular expressions (also referred to as "regex"). BUT WAIT! Before you scroll to the next session description: did you know that this powerful searching capability is available in things like Word and Excel, as well as Google Search Console and Google Analytics? And not only can you use it to search for information, you can also use it to transform information!

In this session, we'll jump into a brief history of regex, discuss pattern matching, and dive into the fundamentals of how we can use regex to surface the data we've been searching for in powerful ways. We'll play some regex-based games to help hone our skills, all while demystifying the idea that regular expressions are dark magic, beyond the capabilities of mere mortals.
Speakers
Paul Gilzow
Developer Relations Engineer @
Platform.sh
Developer Relations Engineer at Platform.sh. Former Programmer/Analyst-Principal at the University of Missouri. Web application security and accessibility evangelist. Software instructor. Conference lecturer and presenter. Runs on passion and coffee. Outside of work, you'll find Gilzow mountain biking, snowboarding, enjoying live music with his kids, and dancing wherever the mood strikes.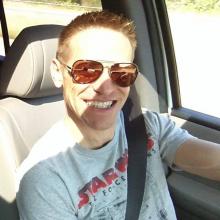 Track
Back-End
DevOps
Front-End